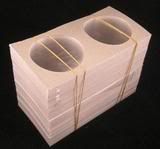 New coin collectors will soon find a need for safely storing, organizing and enjoying their collection, but they may not know what is available other than the standard coin folders with holes to fill with coins. We hope this article will help get you on your way.
Here are some of the basic supplies one will need.
Mylar 2x2 cardboard coin holders. These are ubiquitous with coin collectors because they are a a safe and inexpensive means for safely storing, organizing and transporting coins. Mylar is PVC free to keep coins in good condition and free from dust and finger prints. These holders are easy to use, simply place the coin in the slot, fold and staple. Once the coin is in the 2x2 you can store it in a coin box or in a loose leaf coin page placed in a binder.
Coin Page for 2x2 Holders. These are especially convenient when starting with a variety of coins that you are storing in 2x2's. Just insert in the slots and store in a note book binder. This is a good way to not only store your coins, but to enjoy and share them with others.
Binder. You can pick up any binder at the local drug store or office supply store, or if you prefer you may purchase a binder designed specifically for coins. This is a matter of personal preference.
Coin Tubes. These are absolutely essential once you begin acquiring large numbers of loose coins or rolls of coins. You can choose between clear round tubes that allow you to easily view the coins from the outside, or you may prefer the square tubes that stack easily. At Coin Match we offer both styles and they are all safe for long term storage.
Coin Boxes. There is a wide assortment of boxes for storing coins. There are boxes for proof sets, mint sets, slabbed coins, 2x2 flips and more. Boxes are necessary for keeping everything neat and orderly in one place.
Magnifying glass or Loupe. Definitely get at least a 5x magnifying glass. Bauche & Lomb offers some good quality magnifiers. This is absolutely an essential tool for studying coins.
Cotton gloves. It is very important when handling coins to hold use white cotton golves. This will prevent finger prints and smudges from messing up your beautiful coins.
Albums. These make coin collecting fun and easy. They are great for beginners and experienced collectors alike. The Intercept Shield albums offer the best protection, but the Dansco offers good protection as well, and looks great on your book shelf.
Folders are the way most of us started collecting coins. Whitman produces some really nice folders that provide basic information about the coin. All one needs to do is fill each slot with a coin until the folder has been filled.
Red Book. This book is absolutely necessary for any collector. It will give you valuable information on every U.S. Coin, and an idea of it's retail value. The best way to learn about coins is to browse through a Red Book.